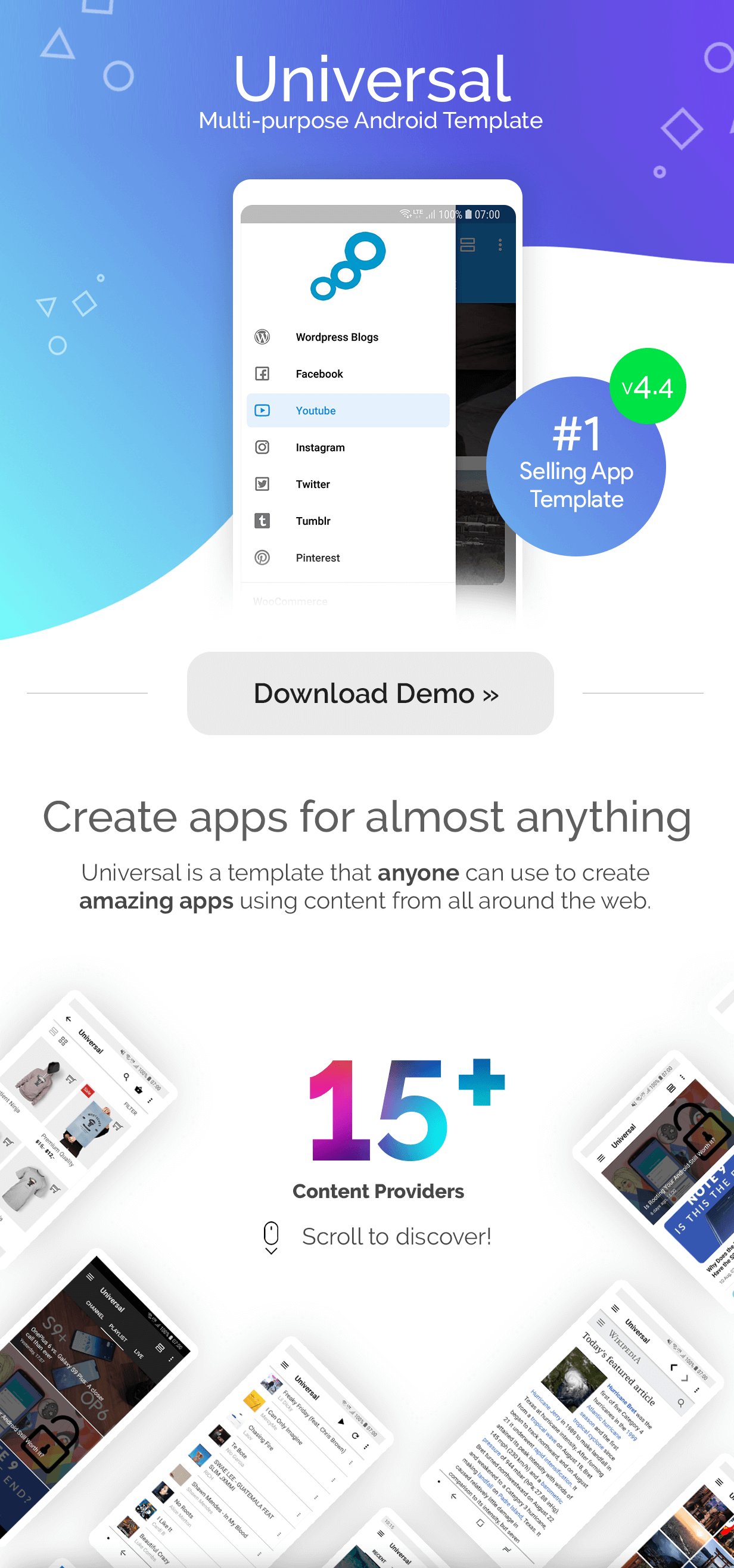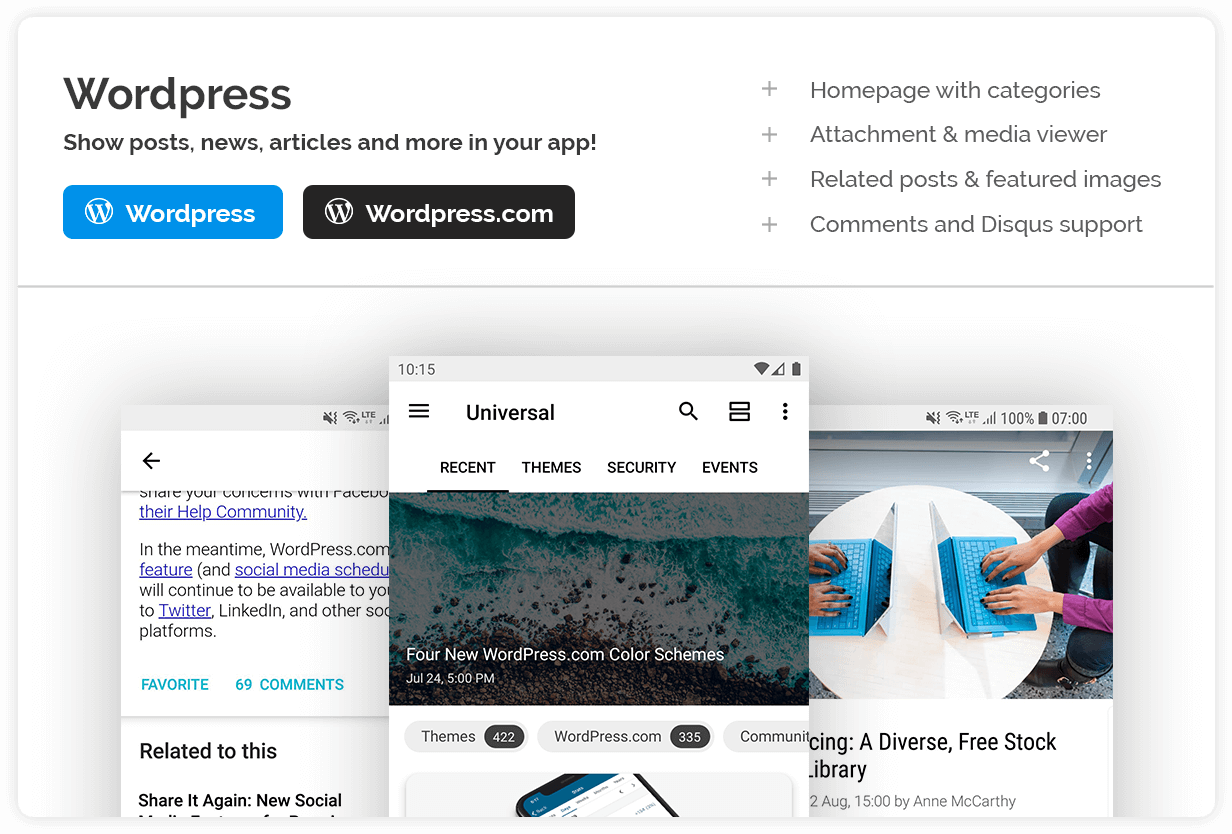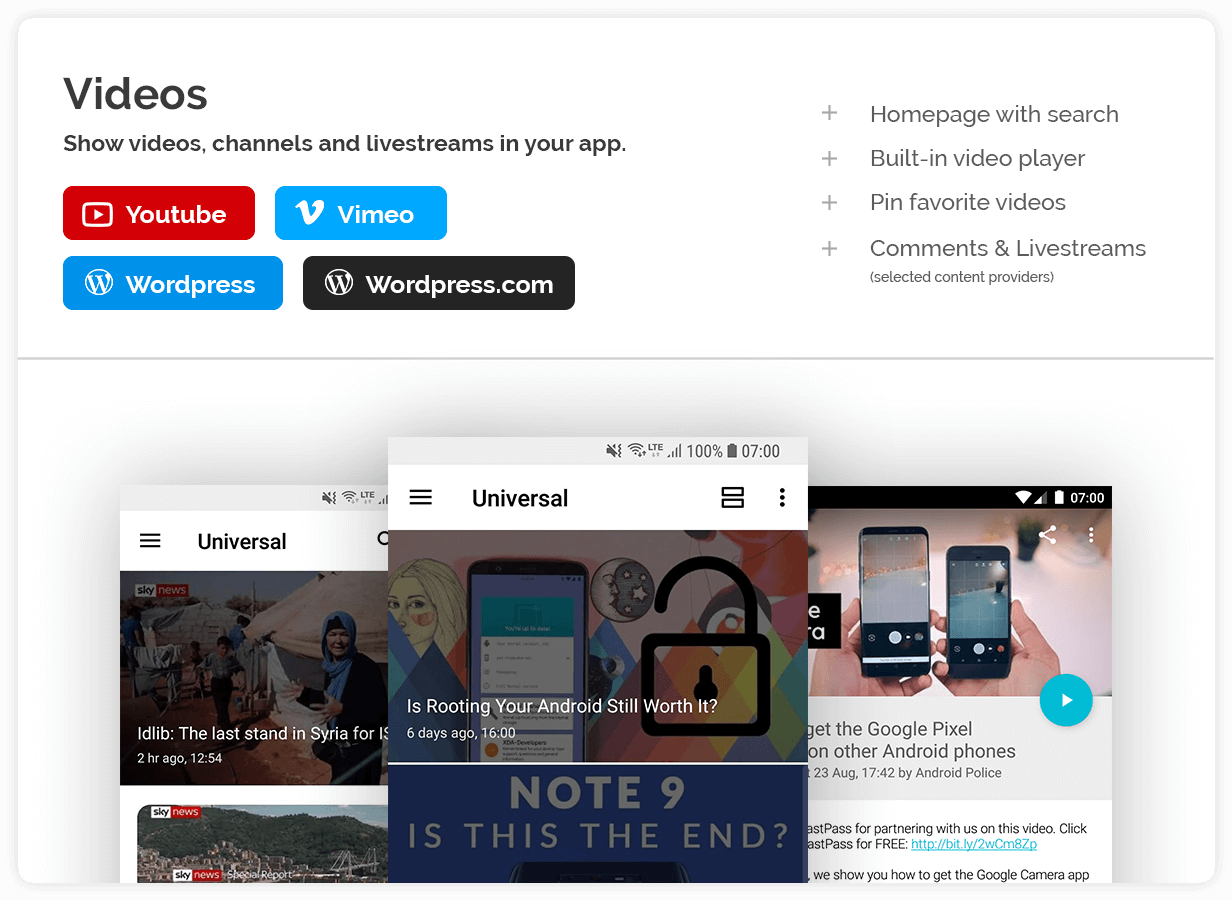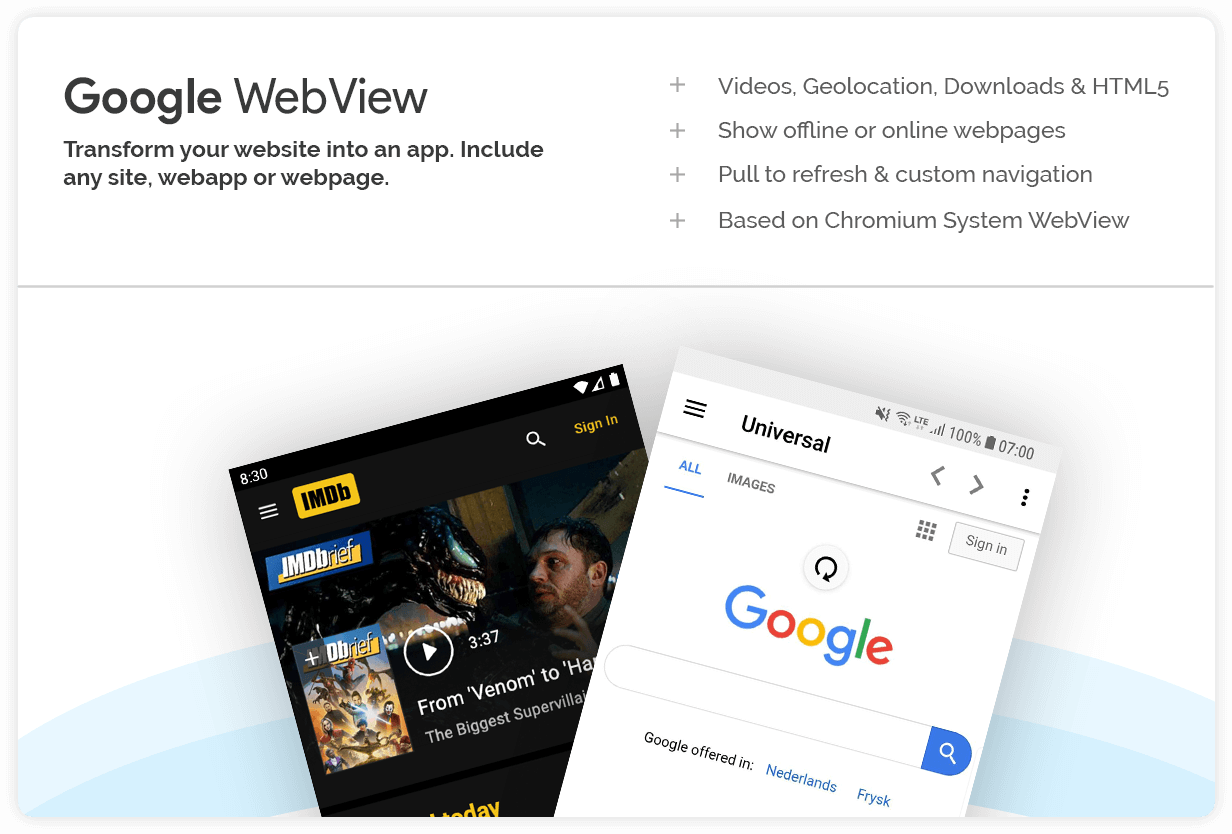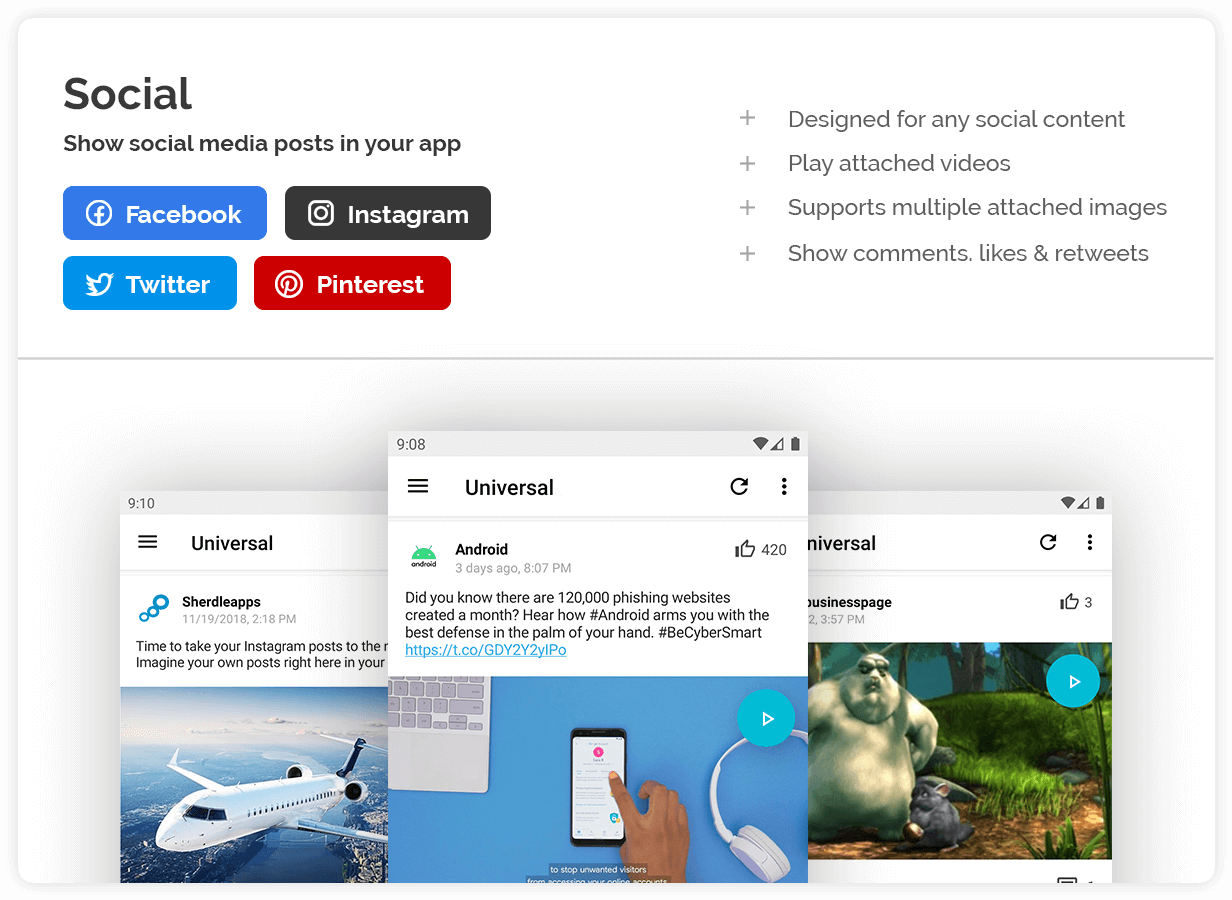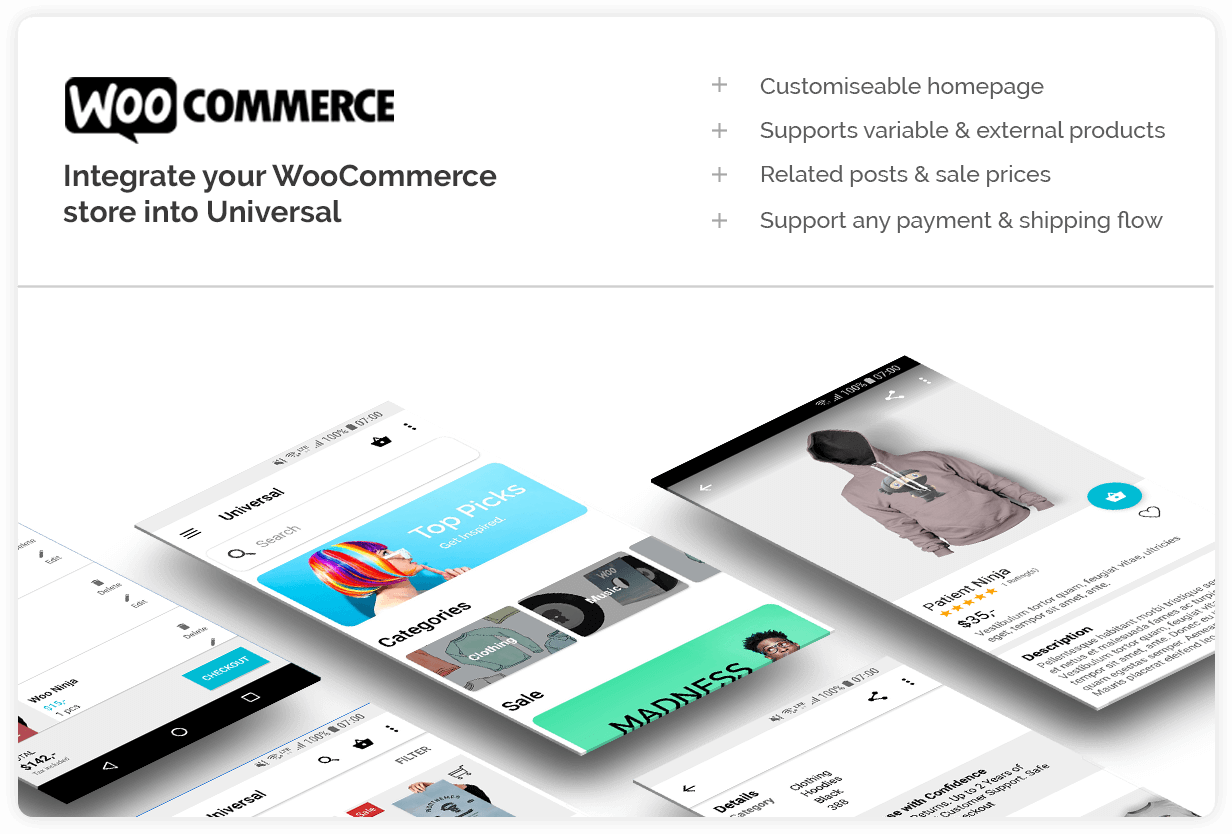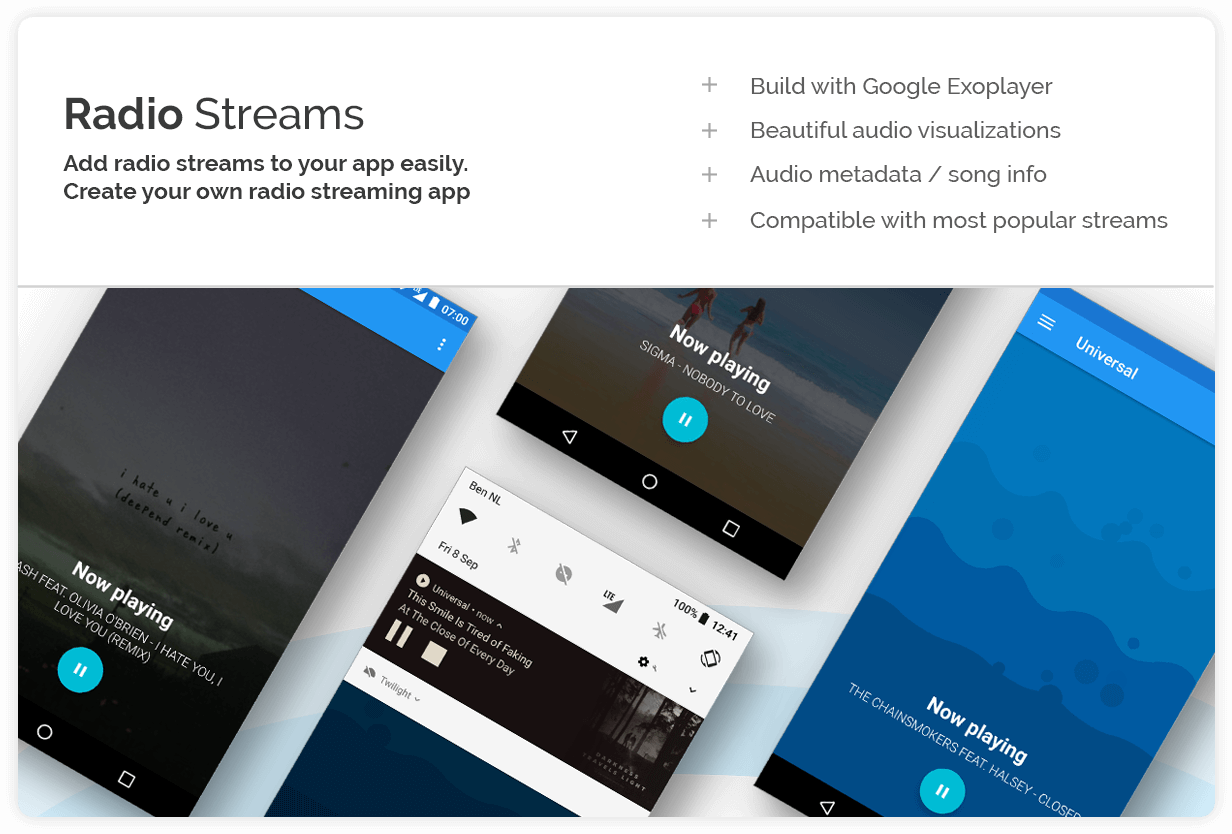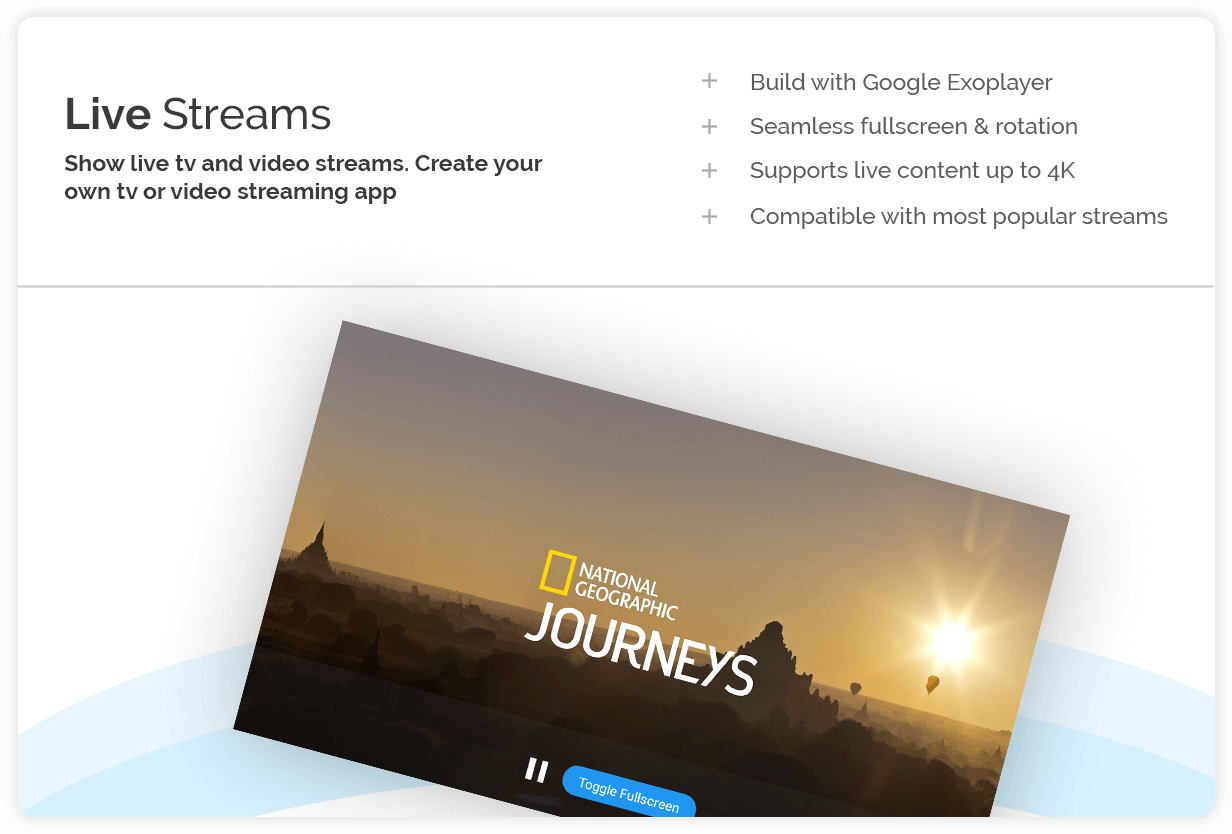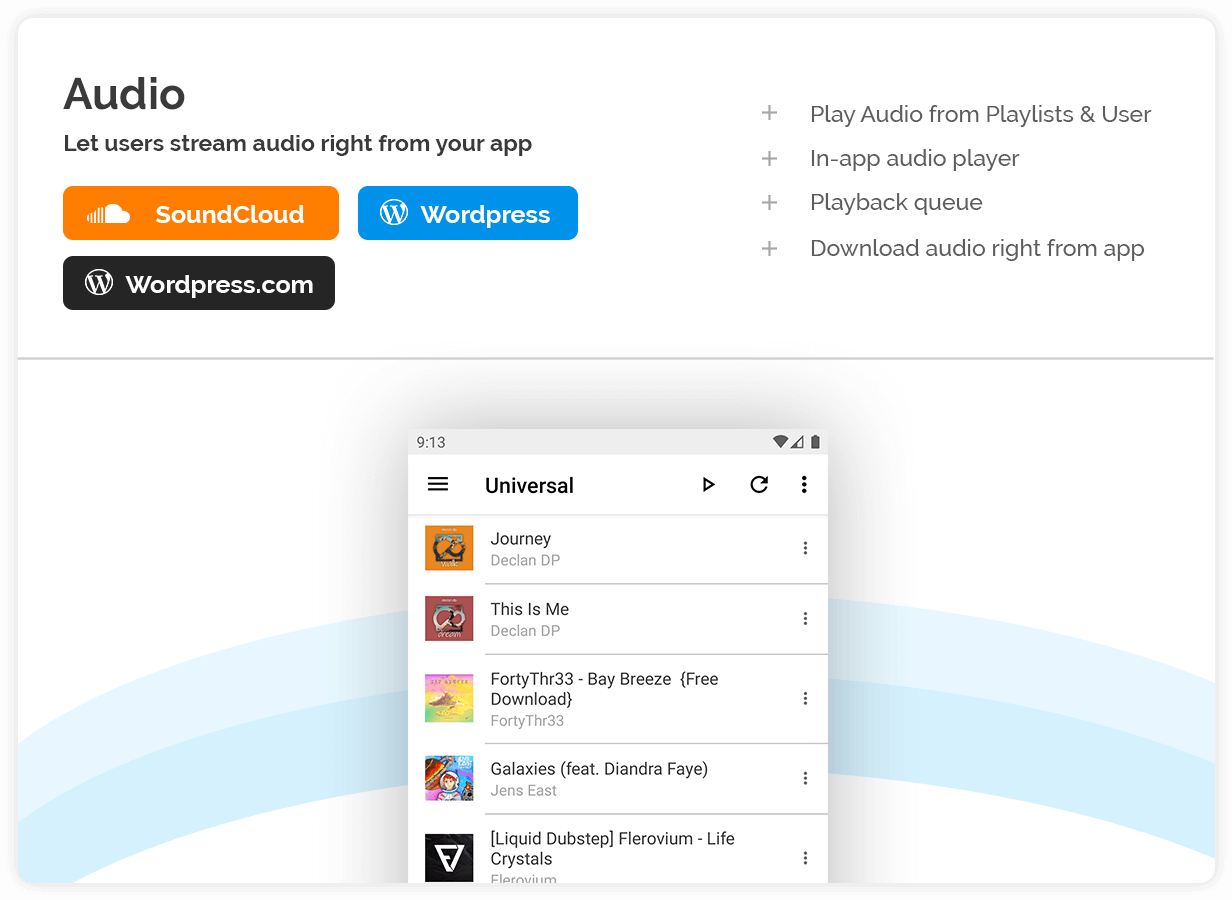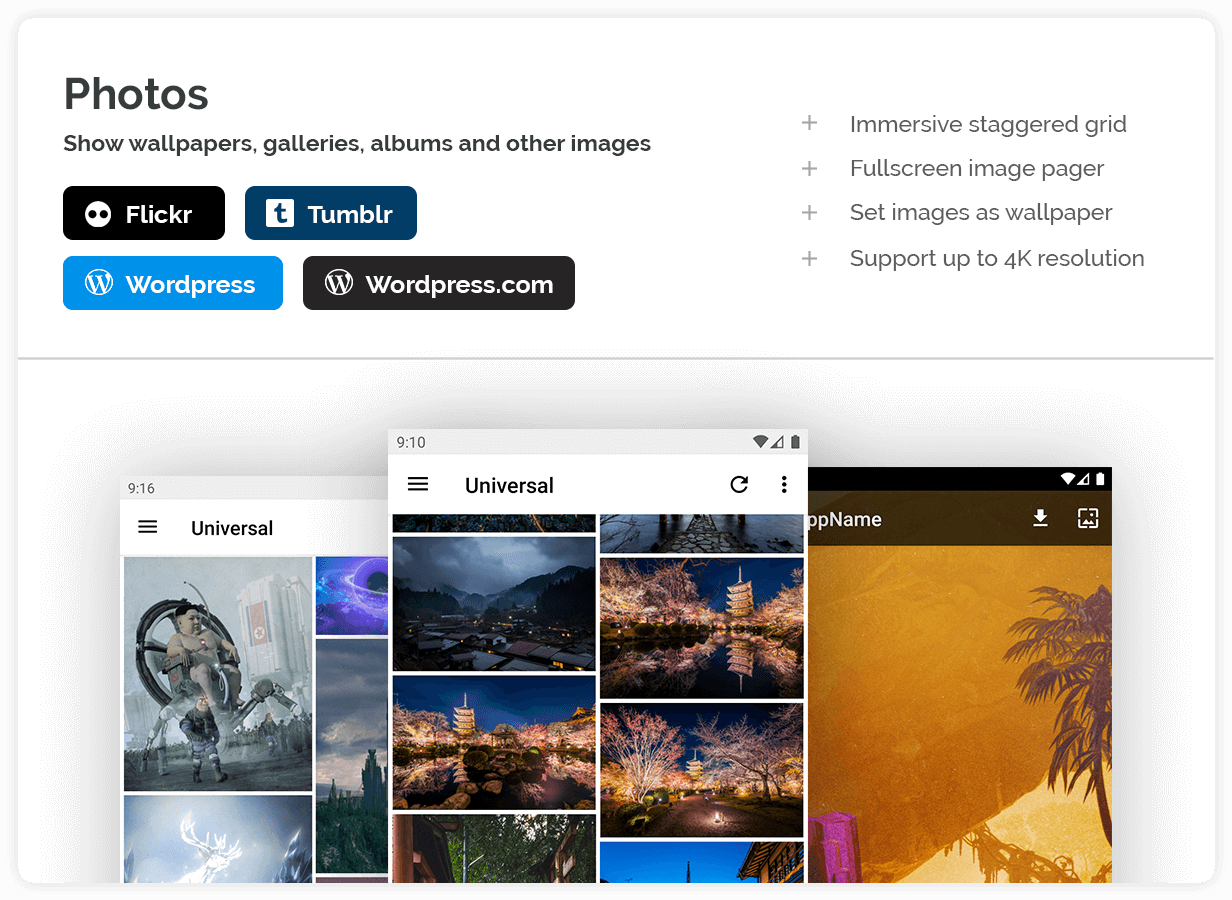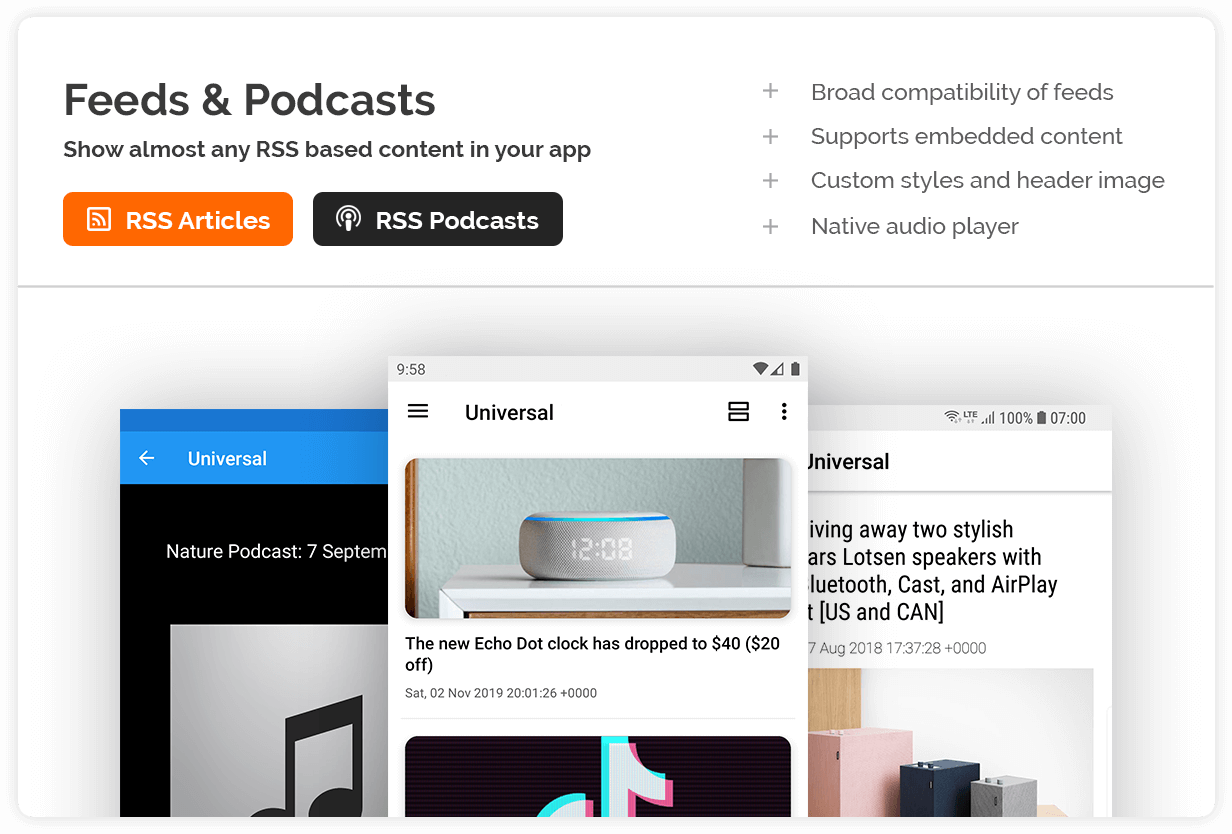 Features
Unlimited Items – You can use & combine as many different kinds of content in your app as you want. For example combine WooCommerce with live video streams and Twitter, anything is possible. Optionally add icons, create sections and highlight.
New Material Design – Universal is designed as per the latest Material Design guidelines. Featuring modern, animated, light, layouts. Completely customisable in every color.
Push Notifications by OneSignal – Send push messages and urls to your users easily.
In-App purchase – Let your users remove ads or unlock extra content within your app by making an in app purchase.*
Tablet UI – A dedicated two plane layout on tablets and an immersive detailview for reading articles and viewing content without distractions.
Offline & Favorites – Save Articles and posts from Wordpress and RSS offline. Web pages & Youtube videos can be submitted as favorite items. Tumblr and Flickr images, SoundCloud and Wordpress Audio and other media attachments can be saved to local storage.
Customisable – Easily make your app by customising colors & using your own icons. You can also choose between multiple styles for your Navigation drawer, for example by setting a header image.
Admob Banners & Interstitials – With build in Admob, it takes only a few seconds to add banner throughout your app & show interstitial advertisements during navigation.
Comments – Show comments to posts, videos and articles from Youtube, Facebook, Wordpress & Instagram within your app.
Social Sharing – Let your users share content and promote your app at the same time.
Custom Actions – Easily make an intent to another app, or open a url from the menu.
Flexible Navigation – Easily create a tab based or navigation drawer based application, or even a combination of both! You can also use category screens to organise your content
Dynamic Remote Configurations – Define your app's configuration easily using our free Configuration tool. Your app will load based on this configuration, and you can update your apps configuration remotely, no need to update the app itself.
In-App Media Viewer – View (embedded) images, videos and audio from content in your app, fullscreen.
Disqus – Support for interactive Disqus comments for Wordpress.
Language support – Easily translatable from within a single file. Also supporting RTL languages and layouts.
Connection Manager – Automatically detect when no connection is present and ask the user to resume when internet is restored.
Well-Documented – Never built an app before? That's no problem, everything is described step by step from installing to importing and customising the template.
Providers
We support many content providers with Universal to ensure you can show content from all across the web. First, we support Wordpress to show your Wordpress blog posts, either from Wordpress.com or self-hosted Wordpress sites, in your app. Next, we support Youtube to show Youtube channels, Youtube playlists or live videos right in your app. Vimeo is support to show Vimeo videos from Vimeo users and albums. Radio is also supported so you users can listen to Radio or Shoutcast/Icecast streams in your app (with metadata/now playing information). We also offer WooCommerce to integrate your WooCommerce Store into your app, users can browse products, add them to the cart, checkout, login and view their recent orders. WebView is available to show webpages, either online or offline. Facebook to show your Facebook Page feed. TV & Live Streams to show live TV and video Streams in HD. SoundCloud to play SoundCloud playlists and user uploads. RSS and Podcasts to show RSS feeds and articles in your app, optionally with Audio. Instagram, to show your Instagram posts. Tumblr, to show a gallery of Tumblr user images. Flickr, to show a Flickr gallery or album. Twitter to show tweets based on a hashtag, query or username. Maps, to show GeoJSON locations in your app. And pinterest to show a Pinterest Board. Above in the description you'll find a more detailed description of each content provider and screenshots.
Compatibility
Compatible with the most popular RSS XML sources & formats. Works with Youtube Channels & Playlists. For self-hosted Wordpress installations, version 4.7 or higher is recommended. Most Wordpress themes and plugins should be compatible with our plugin, however we can not guarantee full 3rd party plugin and theme support. WooCommerce works with the WooCommerce REST API V3 and supports categories, regular products & variable products and has checkout in WebView. Radio and Video streams must be compatible with ExoPlayer. Arabic and Hebrew support for Android 4.2 and up. In order to use the project, you need Android Studio (instructions on this included with documentation). Please keep in mind that the compatibility and features of Universal for Android may be different from Universal for IOS.
Click to Download